Summertime is one of the busiest times of the year filled with long road trips, beach days and all sorts of outdoor activities. However even a short excursion can become a dreadful incident if some precautions are not taking into consideration…
Heatstroke also refer as heat exhaustion in pets is a form of hyperthermia that occurs when heat-dissipating mechanisms of the body cannot accommodate excessive heat. Heatstroke is a life-threatening condition characterized by an elevated core body temperature and the associated systemic inflammation that can potentially lead to multi-organ dysfunction. Any hot environment can cause heatstroke in dogs; however, it can also occur under other conditions, which could include being outdoors without adequate shade and water,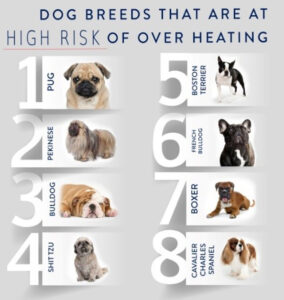 confinement in a poorly ventilated area, strenuous exercise, and/or being left in a vehicle even on a relatively cool day as temperatures inside vehicles can increase rapidly regardless of the outside temperature. Heatstroke can affect all dog breed of any age but, long-haired and brachycephalic breeds (Pugs, Bulldogs and other flat-faced breeds) are more susceptible. Other predisposing characteristics include age (young puppies or geriatric dogs), obesity, pre-existing diseases and physical condition.
Elevated environmental temperature and humidity create the perfect combination to induce heat exhaustion even in dogs who enjoy constant exercise and playtime, like working dogs such as Labrador Retrievers and German Shepherds.  Always monitor carefully for symptoms of heatstroke during hot and humid days. Watch your dog closely and avoid vigorous exercise on hot humid days.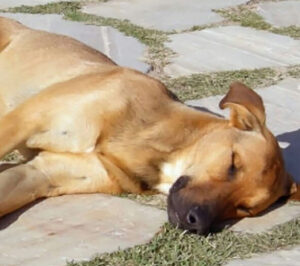 Unlike humans, dogs do not sweat but eliminate heat by panting instead. Dogs have some sweat glands in the footpads, which help with heat dissipation, but only minimally. When panting is not enough, a dog's body temperature rises. This can be fatal if not corrected quickly. Signs of heat stroke are excessive panting, signs of discomfort, unable or unwilling to move around, red mucous membranes, hypersalivation, rapid heart rate, dry nose, vomiting, diarrhea muscle tremors, seizures, ataxia (impaired coordination), coma and death.
If you suspect heatstroke, stop all activity and walk or carry your dog to a cool, shaded area with good air circulation.  It is essential to remove the dog from the hot environment immediately.  Let your dog drink as much cool water as he wants without forcing him to drink. If you have access to a rectal thermometer, you should take your dog's temperature.  A dog's normal body temperature is 98.5 to 102.5 F, and heatstroke is classically defined as a core body temperature above 105.8 F. If the temperature is higher than 105 F, using cool, not cold, water; sponge or hose your dog's entire body, especially the underside, use of a fan is also helpful.  After a few minutes retake the temperature and repeat this procedure until the temperature is reduced to 103 F.  If the dog is unconscious, place a towel on his back and continue to soak the towel and your dog in cold water. Do NOT submerge your dog's head in the water. Keep the head elevated to prevent aspiration pneumonia. If the symptoms do not improve quickly and you are unable to take your dog's temperature take your dog to your veterinarian immediately. On the way to the veterinarian, travel with the windows open and the air conditioner on. It is important to remember that heatstroke in dogs can cause undetected problems, such as swelling of the brain, kidney failure, intestinal bleeding and abnormal blood clotting.
Heatstroke is also a serious problem in other companion animals including cats, even though it does not happen as often as with dogs. Cats are susceptible and more likely to get heatstroke in the following situations: becoming trapped in a clothes dryer, getting trapped in a shed or other structure during a hot period, confinement without ready access to water and shade or a cat left in a hot car for a prolonged period of time. Treating a cat with heatstroke is slightly different from the treatment in dogs: move your cat into a safe, shady, or air-conditioned environment, put a cool, wet towel or blanket underneath them.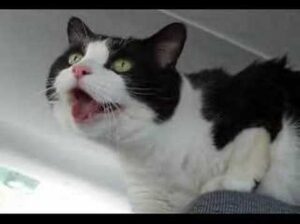 If they are alert enough and able to drink water, offer small amounts frequently. You can add some tuna water or chicken broth to the water to encourage them to drink. Avoid the following: forcing your cat to drink water or pouring water into their mouth, cooling its body with ice or extremely cold water, submerging him in water. Do NOT cool off your cat too fast or skip the trip to the vet. Temperatures can spike again, and there may be damage to internal organs. Unfortunately, cats can be exceptionally good at hiding health problems. If you notice your cat exhibiting any of the symptoms described in dogs and/or sweaty feet, disorientation, restlessness, lethargy and rectal temperature above 105º F bring your cat immediately for veterinary evaluation and care.
Heatstroke in dogs and cats can be prevented by taking caution not to expose them to hot and humid conditions. While traveling in cars, make sure that dogs are kept in dog crates that offer good ventilation, or use a dog seat belt, and never leave your dog or cat in a car with the windows closed, even if the car is parked in the shade. When outdoors, always make sure your dog and cat are in a well-ventilated area with access to plenty of water and shady spots. Have a happy summer!!