No, I am not referring to politics or religion or even to the coronavirus pandemic. What I am referring to has sneaked into our living rooms, homes and lives and it is affecting humans as well as companion animals…and 'elephant' is called obesity.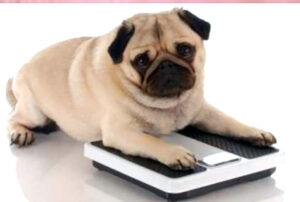 Obesity is defined as an accumulation of excessive amounts of adipose tissue in the body and is the most common nutritional disorder in humans and companion animals. According to the World Health Organization, in humans, obesity has nearly tripled since 1975 with 39% of adults aged 18 years and over overweight and 13% obese. In pets, at least 33% of dogs presented to veterinary clinics are obese and approximately 30-35% of the cat general feline population is obese, with 50% of cats aged 5-11 years old weighing in higher than their ideal weight.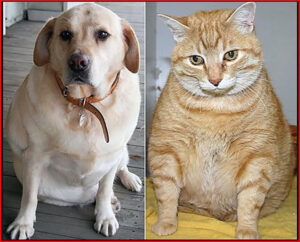 Obesity is not just the accumulation of large amounts of adipose tissue but is associated with important metabolic and hormonal changes in the body. Few diseases in modern veterinary medicine are diet induced with one possible exception, obesity. The cause of obesity is multifactorial with genetics, physical activity, and diet energy content as predisposing factors. There are numerous concerns regarding obesity, the first one is that it seems to be increasing in prevalence.  Furthermore, excess body fat has adverse metabolic consequences, including insulin resistance, altered hormonal secretion, changes in metabolic rate, abnormal lipid metabolism, and fat accumulation in visceral organs. Numerous studies demonstrated that obesity could have detrimental effects on the health and longevity of dogs and cats. Like obese pet parents, obese companion animals may be predisposed to other serious conditions including orthopedic disease, diabetes mellitus, abnormalities in blood lipid values, cardiorespiratory disease, urinary disorders, reproductive disorders, reproductive and renal cancers. A lifelong study in dogs showed that even moderately overweight dogs were at greater risk for earlier mortality. Likewise, obese cats face increased health risks including arthritis, diabetes mellitus, fatty liver disease, and early mortality. The risk for development of diabetes increases in overweight cats and is about four-fold in obese cats.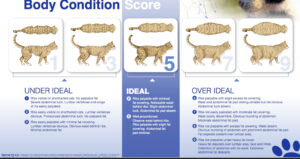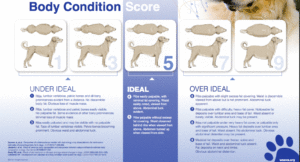 Controlling our pet's weight is one of the two (we discussed the other in this blog) most important thing we can do to help them live longer and healthier lives.
The bottom line: in order to have longer and healthier lives, we must modify our behavior to help our loyal, four-legged companions have a happier life. There are many ways to reach these goals, we will discuss these options in our next blog.