Well, you finally made the decision…whether this is your first puppy, or you had this experience before, this is an exciting time!! For the next few days, you will experience a wide range of feelings from "This's the best decision of my life" to "OMG what have I done!" In other words you might feel that you entered the Twilight Zone…but just like bringing home your new born baby for the first time, this will be the beginning of many years of fun and love and licks that will fill your home with great memories of happiness and companionship!!
To avoid stress and disappointment, the best thing you can do is to get prepared. There are a few things that a puppy will need so get them in advance. Also, "puppy-proof' your home. Puppies are curious and playful so just like their human counterparts they can get 'in trouble" easily.
The following list will give you an idea of some of the most basic things your puppy will need when he gets home:
an appropriately sized crate,
a playpen,
dog chew toys,
a leash and a harness,
a food bowl, a water bowl,
good-quality puppy food and
finally an enzyme cleaner (even the best-trained puppy will have an accident at some point).
This bring us to the first important point: puppies do not have good bladder control yet, and excitement can make them need to pee or poop. As a rule of thumb, take your puppy out to potty after 15 to 20 minutes of play, after every meal. This should be the first thing you do with her in the morning and the last thing you do with her before going to bed. Praise and give her a treat when she goes. In the event of an "accident" make sure to clean it up within seconds, when possible.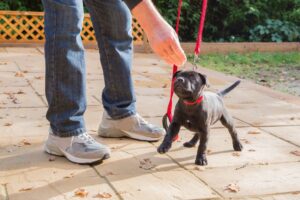 The second point is feeding. Mealtime is a good time for bonding, and to get your puppy on a schedule that makes it easier for you to house-train her. If you want to change her food and avoid "tummy troubles" mix the food the breeder/shelter has been giving her with the new puppy food gradually for a period of one week to 10 days until you change it over completely. A regular mealtime as well as measuring her food helps prevent obesity and ensures that your puppy is receiving and consuming adequate food portions. Consider giving her pieces of kibble from your hand, this will help your puppy to develop a soft mouth, so she will not nip or bite when she takes things from your hands. Healthy treats should be reserved for training and to reward her for good "manners". Jumping up, barking, or doing anything else you do not like should not be rewarded.
The third important point for you puppy's life is bedtime. For the first few nights it might be a good idea to let your puppy sleep in your room (not in your bed). Take your puppy out for one last pee and then put him in his crate with a treat and his towel/blanket (make sure to provide a comfy blanket or towel that is always available at bedtime). Tell him good night and go to bed. Do not respond to any barking or whining. He will soon settle down, and your scent and the sound of your breathing will help to calm him. However, depending on his age, he might need another potty outing before morning but do not make the mistake of making this a playtime. You will regret it!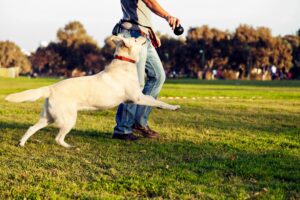 The fourth crucial event for your puppy is playing. As a rule, it is good to start with a variety of toys. It will take some trial and error to figure out what your new puppy likes best. This is a great time to start teaching her that it is okay for you to touch her paws, look inside or sniff her ears, rub her belly, touch her tail and groom her with a soft brush. Observe your puppy for a couple of days to have an idea what kind of toys will fit her personality. Most puppies like to chew so make sure you have plenty of dog toys for her to chew instead of your personal belongings and always offer a toy when you catch her chewing on something else. For curious puppies, we recommend puzzles that can be filled with food or treats and will keep your puppy entertain trying to figure out how to get at them. Remember it is important to supervise your puppy while she chews on toys or treats to avoid accidents.
Learning starts early. That is the next point. Depending on his breed and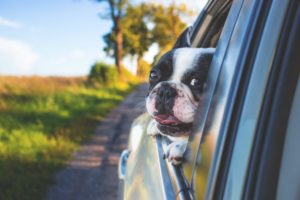 the breeder, your pup is between 7 and 12 weeks. This is a critical learning period that will last until he is about 16 weeks old, so make the most of this rapid learning stage. The goal is for him to have lots of positive experiences with friendly people, children, other dogs, and cats. During this time, your puppy should meet many different people, not just the same family members or friends. To get the numbers up, take your puppy for walks to different places, take him to short car rides and to do errands where you can introduce him to different people. Meeting new people and having lots of different experiences are important to help him cope and adapt to different situations. During these outings, take him to see his veterinarian for a short visit so he gets used to these visits. There are a few things your puppy should learn at this point: Meeting people is great; No teeth on people ever; No jumping up on people; Always potty outside.
These first few weeks at home can be a good time to start training him on easy commands such as sit, down, come, high-five, roll over and more complicated behavior such as walking with a leash. Get him accustomed to wearing it by letting him wear it in the house prior to going outside for walks. You also may want to check  on a good puppy kindergarten class. By the time he has had two sets of vaccinations, he will be ready to start school but check with your veterinarian first.
Finally, remember to have fun and make these experiences rewarding for you and your puppy. Your life has changed because it will be filled with love, joy, and a loyal friend forever?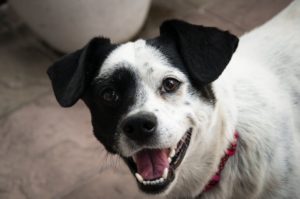 Dr. APG